Our expert bathroom designers can help you remodel your dream bathroom and will smoothly guide you through this tedious process. From start to finish on your bathroom remodel, we promise to treat you and your home with the utmost respect. Most homeowners desired bathroom designs that have a mix of spa-like elements and functionality for our everyday needs. Floors, custom showers, and vanity organizers all help personalize your master or hall bathroom. 
There are several reasons why you might consider remodeling your bathroom. Perhaps the most obvious reason is to upgrade the aesthetic, so you are proud to show it off to your family or friends. You might also consider putting in a large bathtub or a sophisticated shower to make your bathroom more luxurious.
Finally, remodeling your bathroom is a great way to boost your home value. The average bathroom remodeling gives a return on investment of about 60% percent.
To get the most out of your new bathroom remodel, you have to make sure you do it just right. The bathroom remodels experts at Levite Construction can provide valuable and helpful tips on the planning and design of every aspect of your remodel.
Bathroom Fixtures: A Seattle Bathroom remodel provides an excellent opportunity to update your bathroom shower, sink, and bathtub. If you plan on moving your fixtures, the team at Levite Construction can help you reconfigure your plumbing.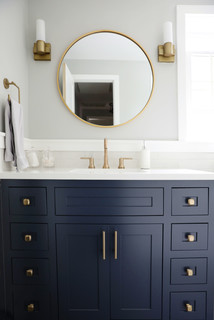 Bathroom Cabinetry: Your new bathroom cabinetry should be both practical and luxurious. At Levite Construction, we can help you decide which type of cabinetry best suits your style and needs.
Bathroom Counters: There are several countertop materials to choose from, including marble, quartz, granite, and limestone. Our team of bathroom designers can help you explore the advantages of each countertop material for your Seattle Bathroom Remodel Project.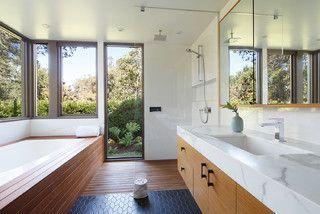 Bathroom Flooring: Bathroom floors must be able to handle moisture. Most people go for ceramic or natural stone flooring for their bathrooms. Heated floors have become increasingly more popular in the last years.
Bathroom Walls: Lastly, you'll need to decide whether you want drywall, tile, or other material for your walls. Tile is the most popular and practical choice for your bathroom walls, especially for the bath and shower area.
If you have any questions about bathroom renovations, be sure to Contact Levite Construction. We can provide all sorts of renovations for Seattle and the surrounding area homeowners; we even offer Garage conversion or Kitchen Remodeling services. We urge you to meet with one of our experts for a bathroom remodel consultation, or even if you don't end up using our services, you'll at least have a good idea of how you want to proceed with your remodeling project.