Are Metal Frame Decks Better Than Wood Decks?
Metal frame for an outdoor living space
When it comes to building a deck, there are two main options for the frame: metal or wood. Metal frame decks are becoming more popular because they last longer and require less maintenance. On the other hand, wood frame decks have a more natural look and make your outdoor space more comfortable.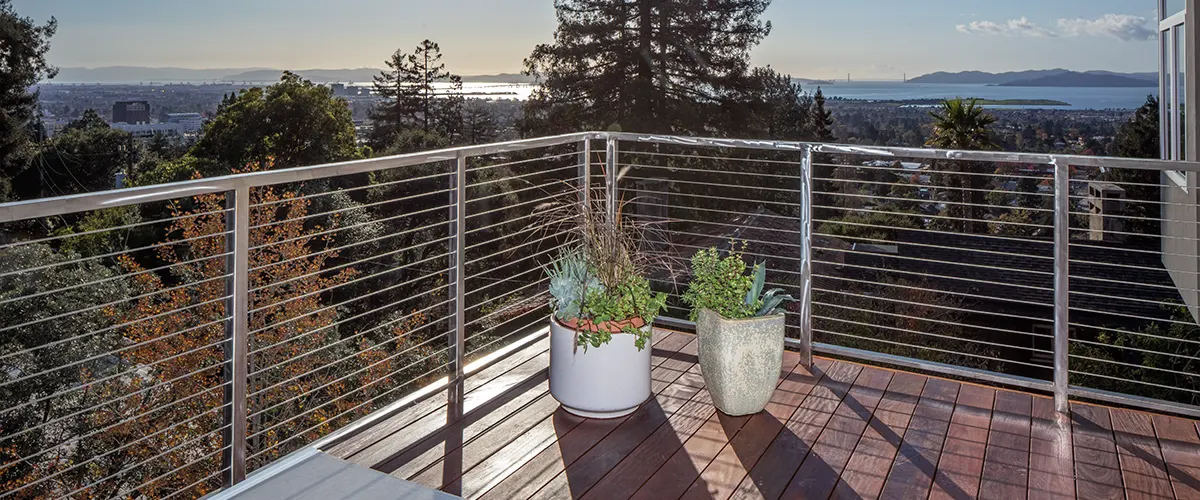 Steel Frame Replacing Wood
In the past, wood was the only option for deck framing. But now, homeowners are turning to steel beams because they are more durable. Steel frames are made from cold-formed steel (CFS) and are great for creating long-lasting outdoor living spaces.
Lumber Is Becoming Easier To Find
Finding wood for your deck is now easier because professional builders are using less of it. However, the prices of lumber are increasing to protect forests and the environment.
Steel In Residential Building
Steel is becoming more popular in residential construction because it is durable and safe in harsh climates. In a comparison between a steel home and a wood home, the steel home cost more to build but was stronger and lasted longer.
Benefits Of Steel
Steel is a versatile material that can be used for ground-level decks or elevated structures like balconies. Here are some benefits of using a steel deck frame:
– Steel is stronger than wood and can withstand floods, tornadoes, earthquakes, and severe storms.
– Steel does not warp, twist, or shrink like wood, so it will stay in good shape for many years.
– Steel is more aesthetically pleasing and brings a modern feel to your home.
– Steel is more flexible than wood, so you can create unique designs.
– Steel is more resistant to severe weather and moisture.
– Steel does not need treatment against mold or termites.
– Steel does not decompose like wood and stays straight.
– Steel does not require hidden fasteners or nails.
– Steel is more resistant to corrosion.
Advantages Of Steel Deck Framing
Using a steel frame for your deck has several advantages over using wood:
– Steel will last longer than the deck boards, so you won't have to replace the frame as often.
– Steel frames are safer because they don't rot or decay like wood.
– Steel frames are easier to design and can be customized to fit your needs and lifestyle.
The Disadvantages Of Metal Frame Decks
There are a few disadvantages to using a metal frame for your deck:
– Steel frames can rust if not properly coated and maintained.
– Steel is more expensive than wood.
Cost Of Steel
The cost of metal decking depends on several factors, including the cost of steel, the thickness of the steel, the type of steel, the finishes, labor costs, and manufacturers' prices. It is important to get a quote to determine the exact cost of your deck-building project.
Gauge – The Thickness Of The Steel
The thickness of the steel affects the cost of the metal deck. The smaller the gauge number, the thicker the steel. So a 16 Gauge steel is thicker and more expensive than an 18 Gauge steel.
In conclusion, both metal frame decks and wood frame decks have their pros and cons. It's important to consider factors like durability, maintenance, cost, and design when choosing the right frame for your deck.
At Levite Construction Co, we pride ourselves on providing the finest experts in Seattle, Washington. Rest assured that your project will be handled by seasoned professionals who will bring your deck vision to life. Our streamlined process ensures a seamless experience, allowing you to commence working with us promptly. Take the first step towards transforming your deck today!
Contact us now to ensure that your outdoor space exceeds your expectations!