Benefits of Kitchen Remodeling
If you have inefficient kitchen appliances, fixtures, and lighting in an outdated kitchen, you might probably be paying more utility bills than usual. Kitchen upgrades will save you money while beautifying your space. Some of the kitchen remodeling benefits include:
• Larger storage capacity
• Increased comfort, particularly if your kitchen is small and limited
• Possessing the kitchen of your choice
• Eliminate mold, mildew, slick floors, and dangerous wiring to increase kitchen safety
• Your home's worth rises as a result of remodeling
• Brings the family closer together as they spend more time preparing and sharing meals
• Eliminate unnecessary items to assist in cleaning your area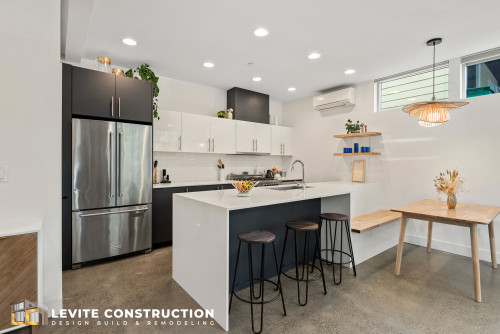 Every home's center of activity is its kitchen, where families assemble for meals and engaging conversations. A disorganized, unsightly kitchen is quite unappealing. Because of this, having a cozy, lovely, and enjoyable kitchen space is important.
We start by assisting you in selecting the greatest design and premium materials. You are at the center of the entire process, and we are with you at every level, from understanding your goals, lifestyle, and budget to the final stages of renovation.
At Levite Construction Co. in Seattle, Washington, we can help you choose the right material for your kitchen remodeling to suit your style and needs. Give us a call at 425-998-8958, or send us an email at info@leviteconstruction.com