Design Tricks to Maximize a Small Kitchen
Designing a small kitchen may seem like a challenge, but it's also an opportunity to pull out some clever tricks for maximizing its function and increasing its visual size.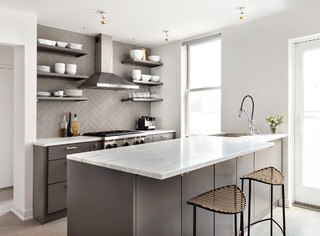 1. Play Both Sides of an Island
An island is a great place to include storage, but sometimes items can just get lost in the back of such a deep, low cabinet.
Consider using cabinets that open from both sides instead, or back-to-back shallow cabinets, so each side can store pieces within easier reach, preventing any items from getting buried.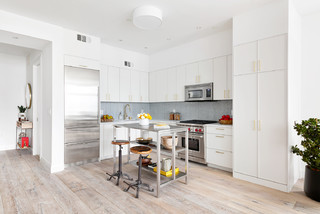 Photo by Celia Reiss Interiors
2. Try an Open Island Cart
Rather than a typical cabinet-based island, try using a cart-style island with open sides. Island carts give a barely-there look that makes the kitchen appear more open while still giving useful storage you can access from all sides.
If the island is movable, it will also allow you to pull it up to the back counters or push it away when convenient, or even roll it over to another area of the home to serve as a buffet station or drink cart.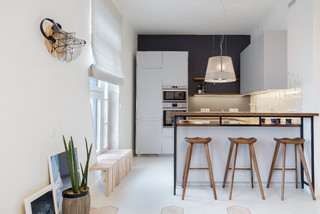 Photo by Екатерина Титенко
3. Work With Light and Dark
You may think that using a dark color in a small kitchen is a total no-no, but contrasting light and dark can create optical effects that actually make a kitchen look larger.
Using a bit of dark gray on a back wall behind surrounding white cabinets, like in this example, causes the back wall to visually recede, which actually helps make the wall look a little farther away.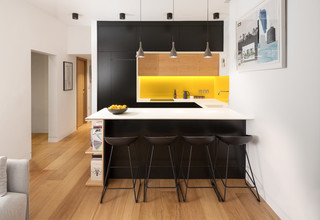 4. Consider Counter-Depth Upper-Uppers
Rather than using typical 12- to 15-inch upper cabinets alone, consider using these at eye level with a row of counter-depth upper cabinets above, as shown here. This makes your higher cabinets flush with a pantry or fridge cabinet for a tidy look and provides a bit more storage space for less-used or larger items, such as wide mixing bowls or seasonal goods.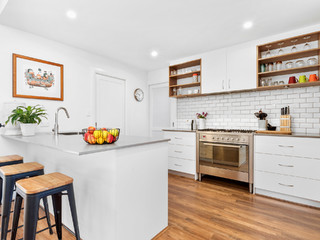 Photo by Ecovision Homes
5. Embrace Boxed-In Uppers
Like the look of open upper shelves but don't want to lose any storage space? Consider using open shelves like these that sit between cabinets, giving you the easy-reach functionality of open storage without committing to a full wall.
This setup will look a bit more clean than a fully open shelf, and everyday items like glassware will still be easy to grab.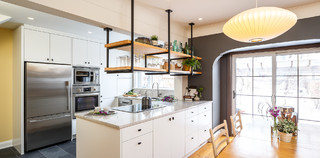 Photo by Astro Design Centre
6. Float Some Open Shelves
Another great alternative to trendy open shelves above your main wall of cabinets is to instead use open shelves above a peninsula.
This gives you a great visually obvious spot to place items that a guest might want to grab, but without completely boxing in sight lines, so you still feel like you can see into and out of the kitchen to rooms beyond.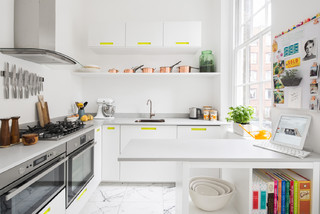 Photo by Juliet Murphy Photography
7. Float an Island or Peninsula Counter top
Depending on the layout of your kitchen, sometimes the ideal spot for an oven or a set of drawers will be a bit too close to an island or peninsula.
This kitchen solves that issue by using a floating countertop that extends a bit beyond the peninsula base, so there isn't anything in the way of swinging doors, or your legs, as you move about.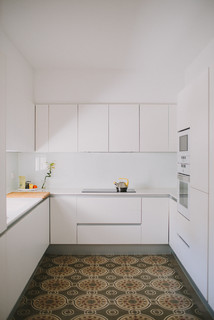 Photo by Paula G. Furió
8. Say Hello to High Uppers
Upper cabinets typically start about 20 inches above the counter, but starting them a little higher (24 to 30 inches) can help you feel a lot less boxed in as you work at the counter below. If you're tall or don't mind using a step stool, the extra elbow room below and visual break can mean a world of difference.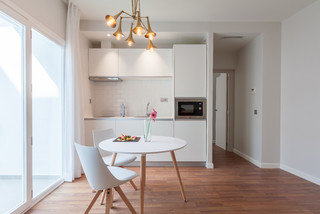 Photo by Juanca Lagares
Starting the upper cabinets at the height of your range hood also creates a cleaner line, compared to having your storage cabinets at one height and the hood cabinet at another, which again creates a tidier look with clean lines.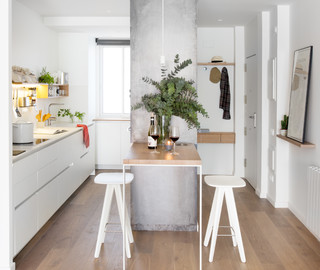 Photo by Paglialonga Studio
9. Get Seats That Tuck In
A surface that can function as both a dinette table and a prep station is handy to have in a compact kitchen, but bulky stools or chairs can take up more space than they're worth.
Avoiding tripping over splaying legs by choosing backless seats that can fully tuck under the counter and table so they aren't in the way when not in use.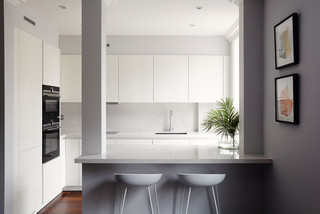 Photo by Elan Kitchens
10. Open Up a Pass-Through
One very effective way to make your kitchen feel bigger is to open up a partition wall to create a pass-through space.
If you build a counter around the opening, even extending it a bit to the other side, you can cheat out the functional size of your kitchen a little bit by borrowing some space from the adjacent room.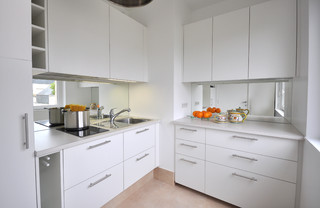 Photo by Borella Art Design
11. Get Mirrored Back-splashes
Don't have a wall you can open up to create a pass-through? You can still create the look of one by using a mirror backsplash. The reflective surface gives the illusion of depth beyond your cabinets.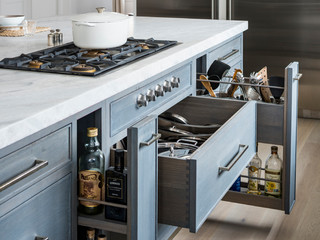 Photo by Studio Dearborn
12. Add Interior Cabinet Organizers
While drawer and cabinet organizers are a handy luxury in any kitchen, they are especially important in a smaller kitchen. Just squeezing in as much storage as possible isn't helpful if that storage isn't functional.
Breaking up drawers into compartments allows you to store more, more effectively.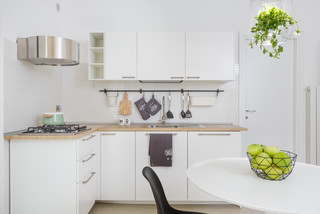 Photo by Maurizio Giovannoni Architetto
13. Hit Up Hanging Storage
Speaking of squeezing in more storage, adding a rail to your back-splash or to the bottom of upper cabinets gives you a handy place to hang tools like spoons, mugs or cups, jars for seasonings and rolls of paper towel or tea towels.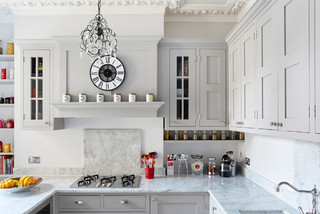 Photo by NBB Design
14. Choose Under cabinet Shelves
This kitchen uses a small niche area created by a change in depth of the wall to create a little storage zone for spices. A shallow shelf under a stretch of upper cabinets can be a great spot to stash small items like spice jars, pepper mills or tea boxes. This works especially well if you use the shortened space below to store other items rather than using that spot for prep (so none of these items are really in your way).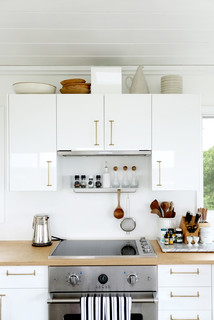 Photo by Space Exploration
15. Take On a Tray
Sometimes all you need to make a kitchen feel decluttered and a bit more open is a simple tray.
Gathering items like a knife rack, a spoon bin, a mortar and pestle and a kitchen timer all on a tray or cutting board visually tricks our brain into seeing them as organized. It's a quick trick that can make a big difference to your sense of visual organization.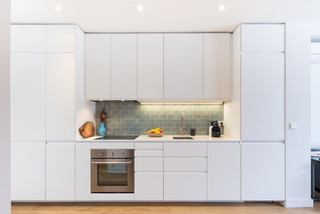 Photo by Soria Nau Arquitectura
16. Trade Counter-top Space for Storage
In any kitchen design, there has to be some consideration of when to prioritize storage space and when to prioritize counter space. In a truly compact kitchen, it can be a smart choice to give up extra counter space for more full-height cabinets.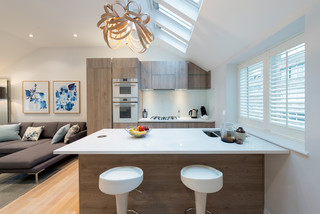 Photo by The Furniture Union
If you have enough room to prep a meal, that's really all you need, and in so many kitchens long stretches of counter space go unused anyway, with the island being the go-to prep space.
Consider trading off 24 to 48 inches of counter for one or two extra full-height pantry cabinets, or cabinets that integrate your major appliances, for a more efficient use of space.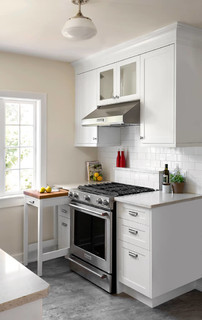 Photo by Mari Kushino Design
17. Pack In a Pullout Chopping Station
Some days you need a bit more counter space than others, and when you do need to chop some vegetables, a little dedicated chopping station can be super helpful.
A clever pullout chopping station, complete with a chopping-block top, can be integrated into a set of drawers so you have it handy when needed and tucked away when not.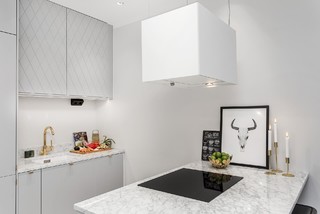 Photo by Ason Entreprenad Bygg & Bad
18. Consider a Central Range and Range Hood
your range on an island or peninsula, rather than against a wall, doesn't necessarily free up space in itself. However, it does mean you can use a central hood fan, which leaves your cabinet wall without a large obstacle in the way of your storage cabinets.
This setup leaves the center of the room still relatively open so as not to block conversation and sight lines, and allows for uninterrupted upper cabinets on your main walls for plenty of storage.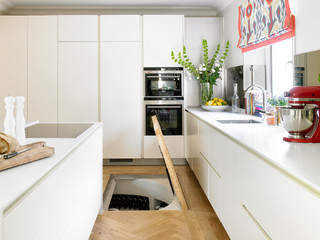 Photo by CLPM Limited
19. Swap In Some Secret Floor-Storage
OK, this last idea may not be practical for most homes, but it was too fun not to include. This cool kitchen has a storage area for wines built into the floor. Sometimes when you want to add a little more storage to your kitchen, you have to think outside the wine box.
At Levite Construction Co. in Seattle, Washington, we can help you choose the right kitchen design and build to suit your style and needs.
Give us a call at 425-998-8958, or send us an email at info@leviteconstruction.com
Source: https://www.houzz.com/magazine/19-design-tricks-to-maximize-a-small-kitchen-stsetivw-vs~101391033